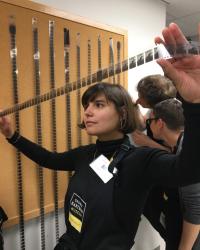 Biography
PhD, Film and Media Studies / History of Art, Yale University, 2019
MA, City University of New York Graduate Center, 2011
I am a media theorist working at the intersection of visual studies and the history of technology. My current book project, Factory Forms, investigates the changing nature of the technologically reproduced image in the decades after World War II, when new forms of automation transformed pressrooms, film laboratories, projection booths, and television signal processing. Using close visual analysis, I show how technological changes and labor struggles reveal themselves in mass-produced images, and how such visible changes fed back into artistic production in both fine art and popular visual culture.
A related essay, "Cinema's Automatisms and Industrial Automation," was published in diacritics and received the Annette Kuhn Debut Essay Prize from Screen. This essay uses the history of factory automation and automatic drawing to reconsider theories of trace and reality central to film and photography; I argue for an expanded definition of "recording" as a mode of inscription that removes crucial elements of real-time feedback. My other essays have appeared in diacritics, World Picture, Millennium Film Journal, and The New Inquiry.
My primary training is in Film & Media Studies and Art History, and I also draw on methods from the history of technology and labor history. Other research interests include experimental film, media art, Marxist cultural theory, and gender and sexuality studies.
Previously, I was a collection cataloger and registrar at Museum of the Moving Image in Astoria, NY. Based on this experience, I love spending time in archives, and introducing students to historical collections!